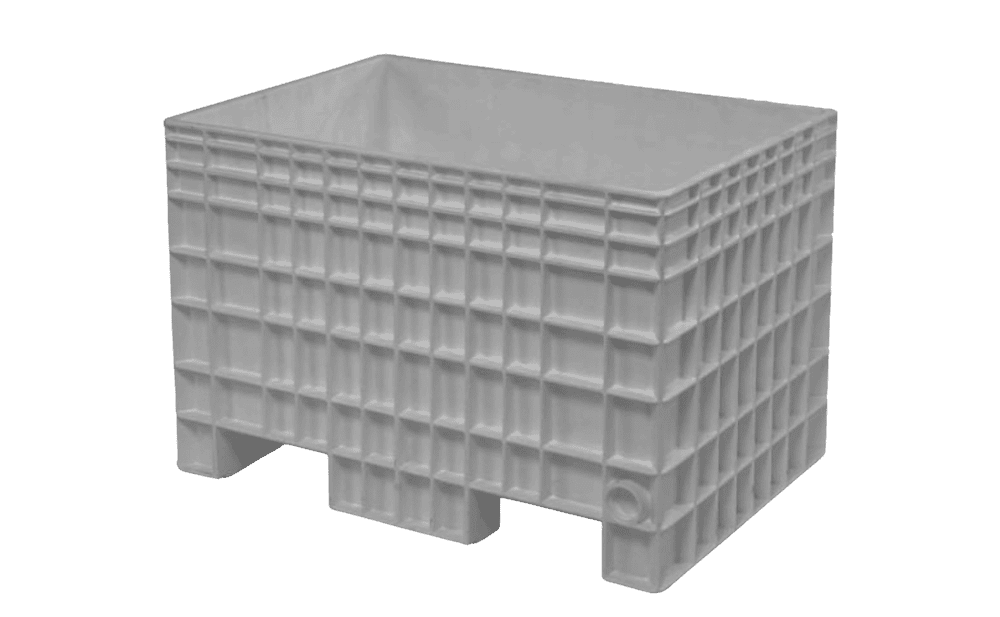 ---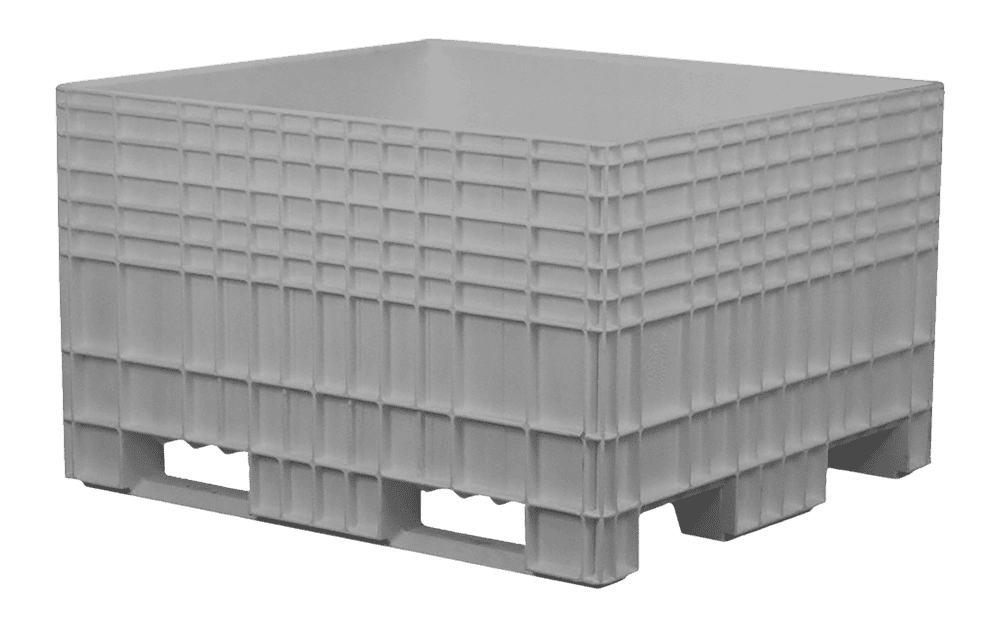 ---
Durable and adaptable, Big Box Containers are ideal for a variety of applications including food processing, agriculture, fisheries, textiles, chemicals, and many others.
---
Key Features
Available in two sizes 48"x44" and 42"x29"
Engineered of structural foam-injected high-density polyethylene.
Molded from FDA approved materials.
Solid, seamless fixed wall construction offers a watertight interior, perfect for holding pellets, powders, and liquids.
Easy-to-clean surface assures a sanitary container for repeat use.
Available in Grey or Black. Black is not FDA approved.
Designed for air freight and is ideal for rapid handling and efficient cubing of air cargo holds.
Optional lids feature a smooth, slightly domed top, which sheds water easily.
Positive base-to-top interlock allows for self-supporting stacks of Big Box containers, with or without lids.
Big Box 4844 allows four-way access (forklift to pallet jack); Big Box 4229 allows two-way access.
Drain plugs can be added after-market to facilitate washing, rinsing or emptying contents.
---
| BIG BOX | TSBB4229 | TSBB4844 |
| --- | --- | --- |
| VOLUME | | |
| External volume ft3 (m3) | 19.6 (0.55) | 35.6 (1.01) |
| Internal volume ft3 (m3) | 13 2 (0 37) | 25.9 (0.73) |
| Volumetric Efficiency | 0.67 | 0.73 |
| CONTAINER CAPACITY lbs (kg) | 900 (408) | 1200 (544) |
| FUNCTIONAL TEMPERATURE | -20 to 120'F (-29 to 49° C) | |
| PROJECTED FOOTING AREA ft2 (m2) | 8.4 (0.78) | 14.6 (1.36) |
| TARE WEIGHT lbs (kg) | 69.0 (31.3) | 95.0 (43.1) |
| MAX STATIC VERTICAL LOAD Ibs (kg) | 4845 (2197.7) | 6475 (2937) |
| MAX LOAD STACK (Dynamic) | 4 high | 3 high |
| MAX LOAD STACK (Static) | 6 high | 6 high |
| APPROXIMATE RETURN RATIO | 1:1 | 1.5:1 (nested) |
| TRUCKLOAD QUANTITY | Upright | Nested / Upright |
| 45 ft trailer | 114 | 96 / 72 |
| 48 ft trailer | 117 | 110 / 72 |
| 53 ft trailer | 132 | 112 / 84 |
| SEA CONTAINER QUANTITY | Upright | Nested / Upright |
| 20 ft | 48 | 35 / 24 |
| 40 ft | 99 | 75 / 54 |
| 40 ft high cube | 99 | 75 / 54 |
| OUTSIDE DIMENSIONS | IN (MM) | IN (MM) |
| Length | 41.9 (1064) | 47.9 (1217) |
| Width | 28.9 (734) | 43.8 (1113) |
| Height | 27.9 (709) | 29.3 (744) |
| INSIDE DIMENSIONS | IN (MM) | IN (MM) |
| Length | 38.9 (988) | 45.2 (1148) |
| Width | 25.8 (655) | 41.3 (1049) |
| Height | 22.7 (577) | 24.0 (610) |
| FORK OPENINGS | 42" side | 48" side |
| Height | 4.0 (102) | 3.1 (78.7) |
| Width | 10.5 (267) | 11.8 (300) |
| LIDS BIG BOX | TSBBL422904 | TSBBL484403 |
| --- | --- | --- |
| WEIGHT Ibs (kg) | 14.3 (6.5) | 14.7 (6.7) |
| OUTSIDE DIMENSIONS | IN (MM) | IN (MM) |
| Length | 42.5 (1080) | 48.8 (1240) |
| Width | 29.5 (7491 | 44.9 (1140) |
| Height | 4 (102) | 3 (76) |
| INSIDE DIMENSIONS | IN (MM) | IN (MM) |
| Length | 42.1 (1069) | 48.4 (1229) |
| Width | 32.5 (826) | 43.8 (1113) |
| Height | 1.5 (38) | 1.5 (38) |