Eco-Pallet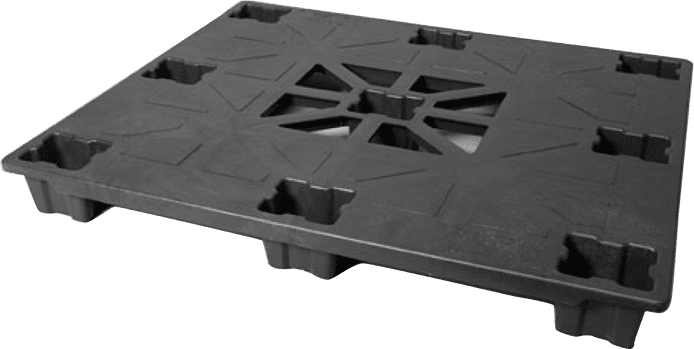 Introducing the most cost-effective pallet that meets all international shipping standards. The Eco-Pallet is the latest in plastic pallet technology. Durable, environmentally friendly, lightweight and economical, the Eco-Pallet is your best alternative to the wood pallet requirements for international transportation.
Lightweight: PX484005001000 :14 lbs
Resistant to pest infestation, mold and mildew
Exempt from EU and IPPC – ISPM 15 regulations
Strong one-piece design
Easy forklift or pallet jack access
Nine-footed, full-nest design
Economical nesting and shipping
Dimensions: 48" x 40" x 5" (1219 x 1016 x 127 mm)
Nesting: 105" Stack: 66 Units, 1,980 per 53'
Load Capacity: 2,000 LBS DYNAMIC (909 kgs), 7.500 LBS STATIC (3410 kgs)
Plastic Pallets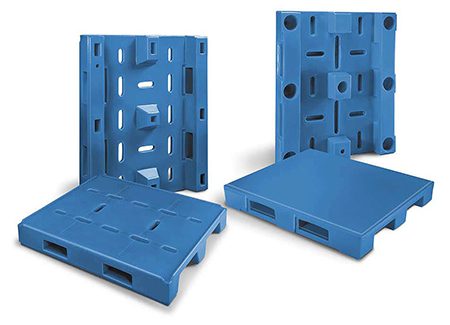 Constructed of durable polyethylene, Saeplast Pallets represent a secure investment for transportation or storage requirements. Designed to allow for flexible use, the pallets fit all standard North American transport systems. They can be easily maneuvered by pallet jack or forklift. With features like flat top or raised lip, non-skid rough surface (flat top only), four-way forklift entry, imprinted serial number for product identification, stackability, and ease of cleaning, our pallets easily replace wooden pallets and all their inherent problems. And, they are 100% recyclable, too.
| PALLETS | DP40R raised lip |
| --- | --- |
| TEMPERATURE RANGE | -30 C + 60 C |
| WEIGHT lbs (kg) | 48 (21.7) |
| OUTSIDE DIMENSIONS | IN (CM) |
| Length | 48 (121.9) |
| Width | 40 (101.6) |
| Height | 6.7 (17) |
| Lip | 0.5 (1.27) |
| PALLETS | DP40F flat top |
| --- | --- |
| TEMPERATURE RANGE | -30 C + 60 C |
| WEIGHT lbs (kg) | 48 (21.7) |
| OUTSIDE DIMENSIONS | IN (CM) |
| Length | 48 (121.9) |
| Width | 40 (101.6) |
| Height | 6.5 (16.5) |